How to Experience the Best Yacht Charter in Turkey
Combining both the western comforts and the eastern flavor, Turkey is the perfect destination for those who want to experience the bustling bazaars, exotic cuisine, and amazing mosques without going far from Europe. with a coastline that spans over 8000 km, this gem of the Mediterranean offers one of the best yacht charters and sea cruises in the world. Let's take a look at 5 ways you can make your Turkish vacation at sea even better.
Exploring the Turkish Islands
While Turkey is close to the many Greek islands which are one of the main attractions of the Mediterranean, it has a lot of islets of its own to offer. Some feature Greek architecture and ruins left from ancient times, and some have that eastern atmosphere with the smell of spices and cafes offering delicious Turkish delight with hot tea.
Rent a gulet and travel to the island of Gökçeada straight from Homer's The Iliad and experience Greece without leaving Turkey. From picturesque villages filled with historic churches and small cafes offering local delicacies.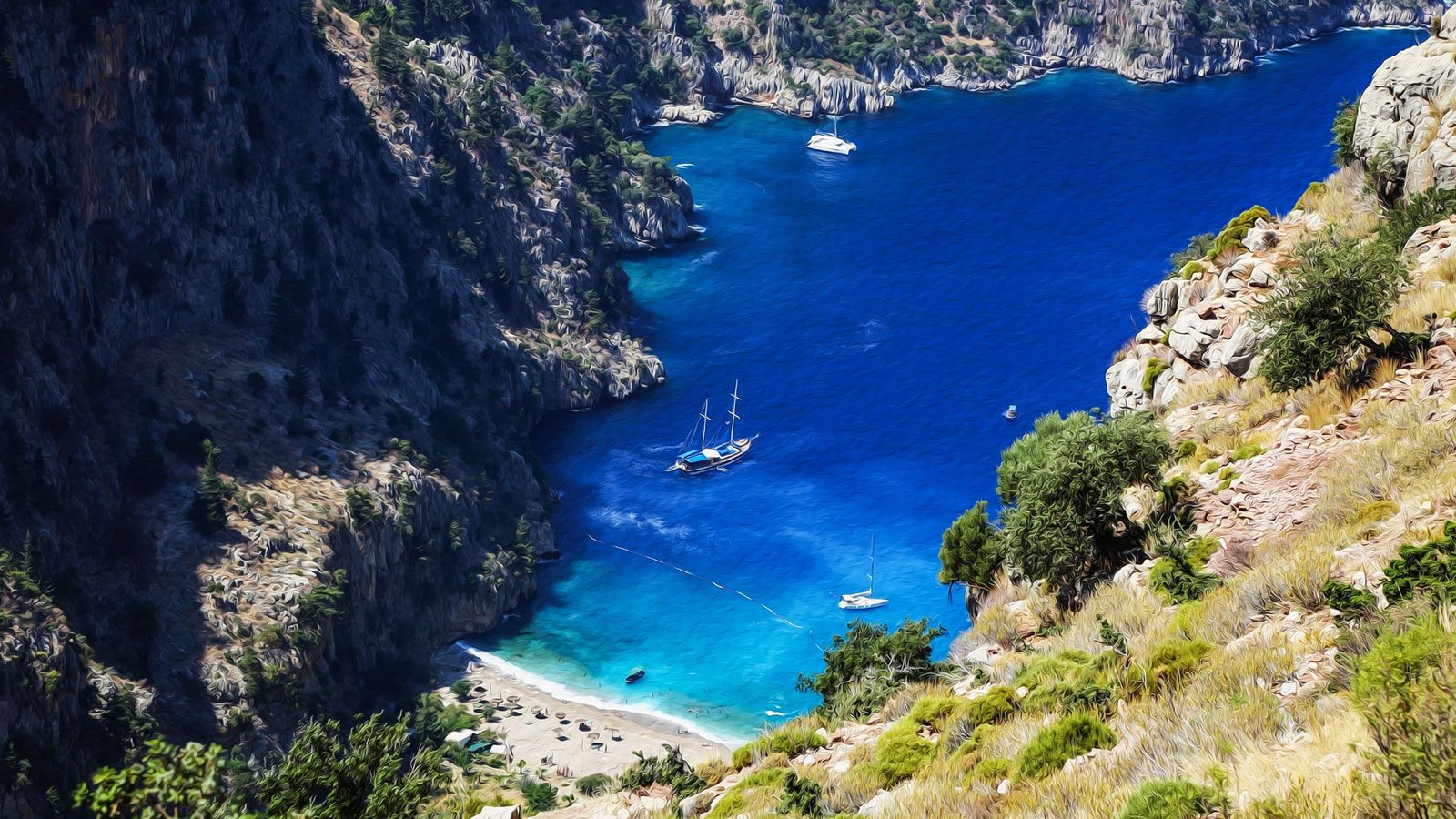 Alternatively, charter a yacht and visit Cunda — an island close to Greek Lesbos. Besides the beautiful beaches that welcome you to enjoy the serene Aegean Sea and ancient Greek ruins, the island is famous for its olive oil which is there perhaps the best in all of Turkey.
Going on a Blue Voyage
If you ever inquired about a vacation at sea in Turkey you have probably heard about Blue Voyages, sea trips on gulets that let you experience the local culture, natural beauty, and gems hidden away from regular tourists. Get inspired by famous Turkish writer Cevat Şakir Kabaağaçlı who gave Blue Voyages their name a century ago and whose books turned Bodrum into one of the main centers for sea vacations in Turkey. What was at first just a local fisherman showing some of the beautiful places you can't get on foot to, now turned into the most popular type of tourist activity in the area.
The best thing about a Blue Voyage is that you can choose the length of the trip yourself. Explore a couple of the islands along the Turquoise Coast or enjoy a long journey through the Turkish Riviera visiting beautiful places like Gökova, Dalyan, or Kekova. While you can simply rent a motorboat and explore all the places yourself, you will likely miss the smaller hidden gems known only to local sailors who keep such things to themselves.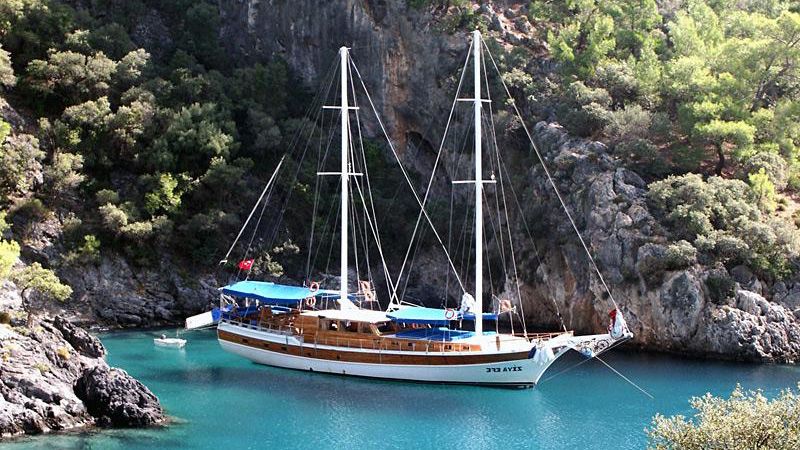 Take Advantage of the Best Beaches in Turkey
Turkey is home to a multitude of extremely beautiful beaches of any variety. While there are great places to catch some sun on the mainland, you will need to rent a boat or better yet charter a yacht to get to them. One of the best spots to enjoy a relaxing beach experience while being surrounded by serene natural beauty is Butterfly Valley also known as Kelebekler Vadisi. If you just want to spend a day swimming in the turquoise waters of the sea you can stay on the beach and look at the breathtaking mountains that surround Butterfly Valley beach. However, if you're up for some physical activity, you can take a hike in this Turkish Mecca for campers and climbers. The many hidden waterfalls and trails can easily take a whole day to explore. And don't forget that there are over 100 species of butterflies that give the valley its name.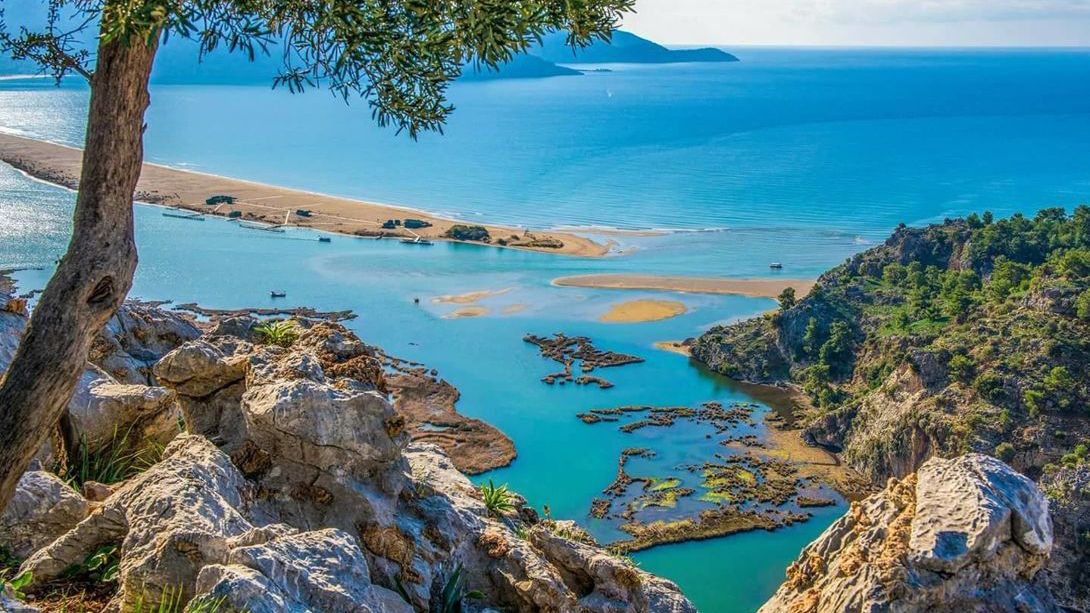 Another gem is Iztuzu Beach that is famous for its many turtles. It is the perfect place to relax if you are a nature lover since the beach is a thoroughly preserved ecosystem that is regularly maintained and kept clean. The only downside is that it closes after 8 PM during summer leaving some time for the turtles to not be bothered. The beach is located East of Marmaris and is technically part of the mainland so you can get there on foot, but making it a part of your sea voyage is much easier and saves you a lot of time that you can spend enjoying the sun and the warm water.
Hire a Turkish Gulet
If you're planning a trip to Turkey with a sea voyage in mind but not decided on the vessel yet, try the famous Turkish gulet. The big masted ships will transport you to the days of old when everything was made out of natural wood, the splendor of the cabins showed itself through expensive fabrics and lavish design, and the experienced sailors could show an adventurous tourist various places he would have never found on his own. Originally, gulets were just for fishing purposes and had no chambers or additional sitting space in the back, but after the '70s, the vessels were being remodeled to accommodate the growing demand for nautical vacations and recreational sea trips.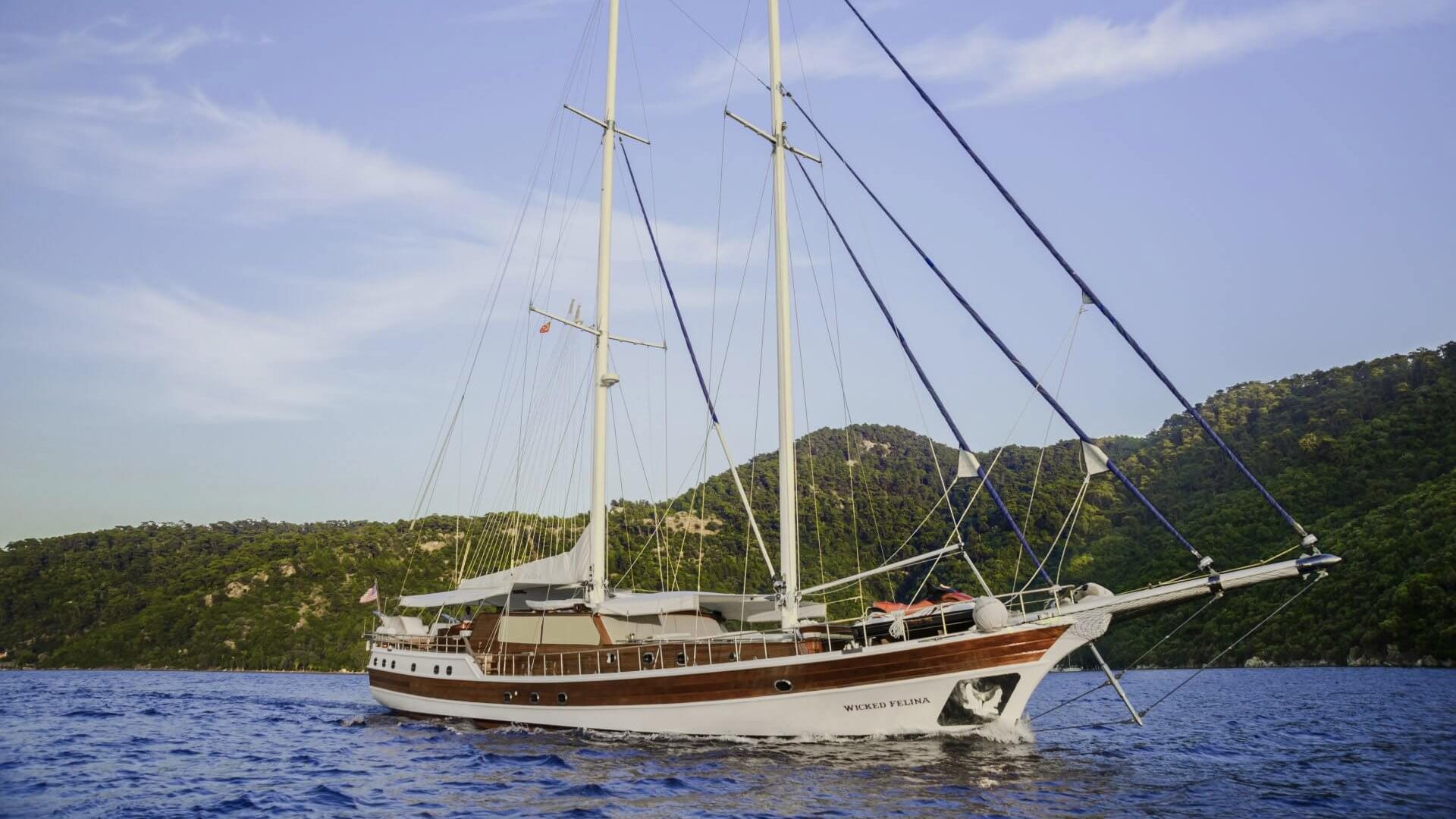 Of course, the times have changed and modern gulets maintained only the outlook of an older ship. Every gulet is filled with contemporary comforts, made up to modern safety standards, and even runs on a motor rather than sails making any voyage much more relaxing and predictable. Now, gulets are offered throughout the Turkish coast, but Bodrum and Marmaris have historically been the centers for such sea excursions dating back to the 1920s when poets and writers joined local fishermen on their boats to explore the natural beauty of various coves and islands along the coastline.
Use GetBoat to Receive Only the Best Offers for Yacht Charter in Turkey
GetBoat uses a smart system to monitor the best deals in yacht charters and boat rentals around the world. We scan the marinas and negotiate with charter companies on your behalf to get the best prices. You just need to tell us which experience you'd like and we'll do the rest providing you with several suitable options to choose from. Leave a request now and we'll get the perfect boat for your next vacation at sea.