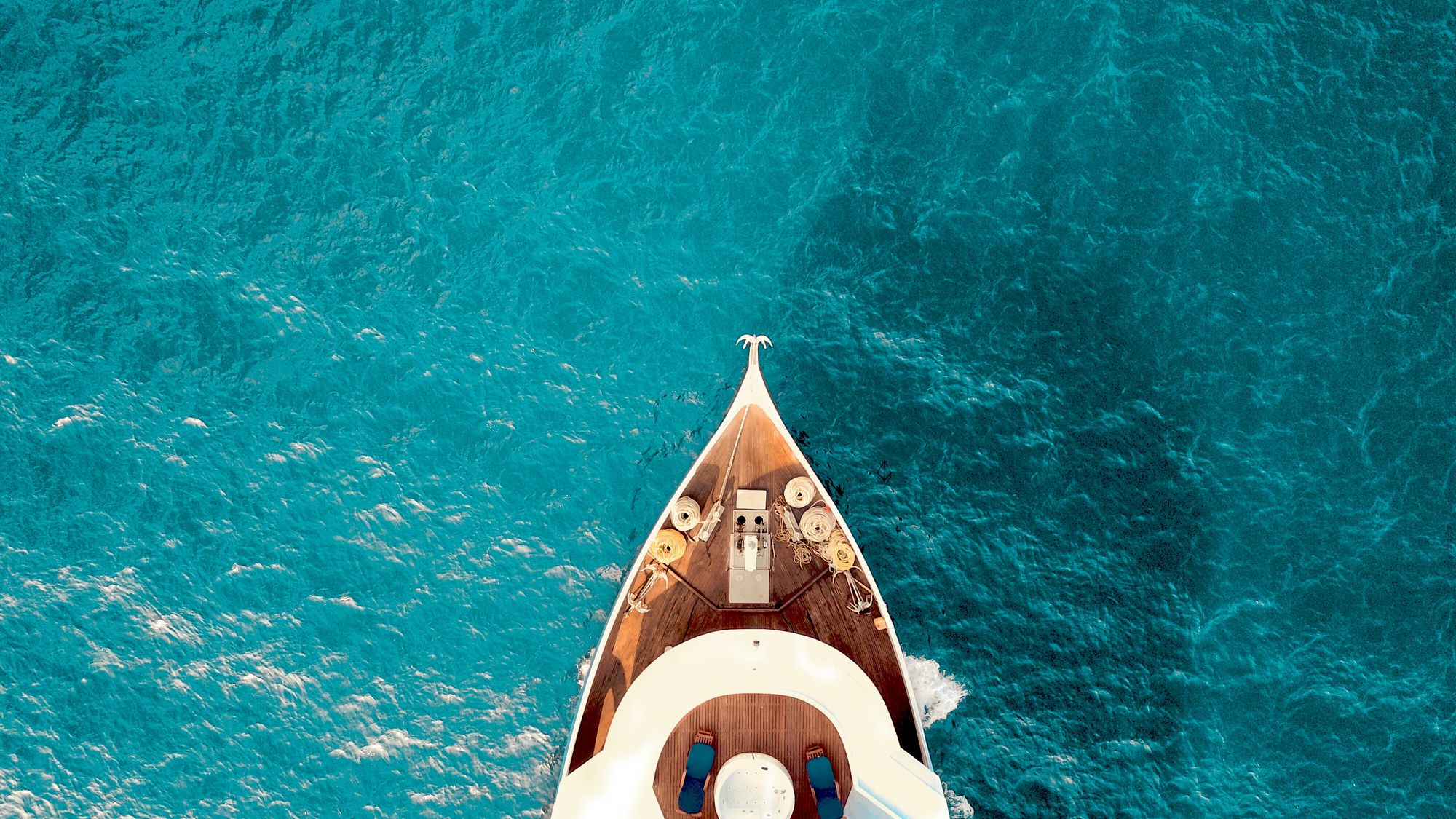 Daily charter or multi-day vacation?
When you're on vacation, you want to relax! You don't want to cook, clean, or sometimes even talk. Many customers choose a yacht charter specifically so they can relax and let someone else do the cooking and cleaning, out on the placid waters that are comfortably insulated from the crowd. If you are planing a charter, we guarantee you will have an amazing stress-free time while attended to by our professional captain and crew. We will attend to all your needs, big and small, we know how to treat our guests right. We have so many options of things for you to do and see whether you're on a half day (4 hours) charter or a full day (8 hour) charter. No matter how small your question is, please, do not hesitate to call. We answer our phones 24/7. Click here for some detailed examples of what we have done in the past. Use one of these tips as a guide or come up with one of your own. On a multi-day charter you have many more choices, both for activities and destinations.
We can help you plan your yacht charter the right way depending on how many days you would like to charter. We will help you plan it step by step and once you are satisfied with the itinerary, we will also help you with your daily F&B that will be on board and catered by our professional staff. There is nothing less to expect but THE BEST!
Where are your yachts docked?
We can find a boats to your needs anywhere where it is possible to navigate. We will deliver the boat to the closest marina for your convenience. Additional charges may apply.
Do we need to come to your office to sign the agreement?
No, we can do all paperwork prior to your charter date by phone, email, and fax.
Can you pick us up from our location?
Yes, we can pick you up and drop-off at your location. We also can arrange transfer to/from marina for you. Additional charges may apply.
Can you help us with an itinerary while we are on the boat?
Yes, we can. This is one of our greatest areas of expertise. We will give you personal service by inquiring as to your likes and dislikes and make itinerary suggestions accordingly. Once we are clear on the plan, we will contact the captain and mate and communicate your desires so you can have a fabulous time in the waters.
Do we need to bring any form of payment the day of the Charter?
Yes, you need to bring the credit card you used the time of reservation so we can make a credit card imprint and check identification. No other form will be needed from you as we will do it all prior to the charter date.
Can we pay the day of the charter?
You can pay with many different forms; Cash, Credit Card, Wire Transfer. Payment must be made 48 hours before charter commences.
Do we need to pay for the crew, moorings and fuel?
Crew service (at least skipper) is included in the price in the majority of cases. Fuel and mooring fees are paid additionally, as they may vary dependingly on the route.
Can we have a chef on the yacht?
Yes, you can hire a chef through us for the time you will be onboard to make you special meals. We recommend having chefs on multi day's yacht charters and a steward on a day charter. Depending on your wants and needs, we will cater to it all.
Can you take care of ordering Food & Beverage on the charter for us?
Yes, we can prepare food and drinks on board for you, just let us know what you wish to order; we will take care of the rest for you. A fee may apply.
Can we bring our own Food & Beverage?
Yes, you are allowed, it's your charter for the day, so you may bring whatever you want, we will help you get setup.
Do you cater onboard the yacht?
Yes, we do depending on the vessel size and the number of people. All charters are different and unique, so please call us for detailed information for your specific needs.
What is the cancellation policy?
If charter is cancelled by the customer's initiative or bad weather conditions, the customer can be partially or completely refunded (depends on terms, reason, etc). If charter is cancelled by the boat supplier' initiative, the supplier is obliged to refund the customer in full.
Can we book our charter a couple of months before guaranteeing us the boat?
Yes, we will guarantee that, even if due to unforeseen circumstances that particular yacht is not available, we will have a same size of yacht or bigger. We will never downgrade our guests to anything smaller than what they booked.
Are all your yachts insured?
Yes, all our yachts are insured by the owner and our company also carries liability insurance. Owner shall keep the Yacht fully insured for the full term of the charter period. Owner's insurance policy, however, does not cover Charterer's protection and indemnity during the term of the charter, and Charterer is responsible for obtaining such coverage, if desired. The charterer shall not violate the terms of the Owner's insurance policy, including, without limitation, the navigational limits it imposes.
Am I allowed to smoke on the yacht?
Smoking is not allowed inside the yacht only in outside spaces.
Can I bring any pets on the yacht?
Pets are not allowed onboard the yacht.
Can I charter the boat without a captain?
Dependently on the type of vessel sometimes we offer the boats without a captain (so called bareboat charter).
Can your crew (captain & mate) also watch my children?
The crew aboard is there to maximize your enjoyment and will not be available to assist with children. Children under the age of 13 are not permitted onboard without the direct supervision of a nanny or adult charter guest at all times. We recommend hiring an extra mate specifically for child care for an additional fee.
How long is a charter?
Half day charter is up to 4 hours. Full day charter is up to 8 hours. We also do multi days charters to anywhere from the Bahamas, Key West etc….You will have to setup the time prior to the day of charter and cannot be changed unless due to weather conditions.
How many passengers can we have onboard a yacht?
Up to 13 passengers maximum ( a charterer and his/her 12 guests), according maritime law for recreational vessels. Please, feel free to call us for more options of vessels that can accommodate a larger party.
How much the gratuity for the crew is expected to be?
A crew gratuity of 10% – 20% of the base charter rate is customary, but given at the sole discretion of the Charterer.
Can we rent a jet ski?
Renting of a jet ski or any type of watercraft is solely possible when chartering one of our yachts. Keep in mind some of our vessels have jet ski included on the yacht.
Do we need Passport on board a yacht charter?
Only if you are leaving the waters of one country and going to another. In this case, everyone on the yacht is required to have their unexpired passport with them.
Contact Us
Use GetBoat to receive the best offers for your next yacht charter today!
RENT A YACHT