Malta yacht charter: Sailing the Historical places
Malta is located on three large islands: the island with the same name Malta, Gozo and Comino, located to the north of it. Take a yacht charter and you can explore each of the islands, get to beaches located far from the noise, visit bays and coves, and enjoy the view of the historic city from the water.
Since ancient times wars have been fought over Malta. The Romans, Greeks, Thracians, Carthaginians, Normans and Arabs alternately conquered it. The island was a transit point for France during Napoleon's Egyptian campaign and played an important strategic role in the 20th century for Great Britain. All this has formed a unique culture. However, the Order of Malta brought greater fame to the island.
Malta has a typical Mediterranean climate and it is well suited for boat rentals. Northwest wind dominates at any time of the year. The yacht charter season starts in April and continues until October. Summer (from July to September) is the high season. The sea warms up to pleasure temperature, the air temperature is comfortable for walking on the water and sightseeing during the day, and at night it maximum drops up to  2 ° C. Good weather allows you to rent a boat in the middle seasons: from April to May and from September to October. There are fewer tourists at this time of the year.
The seasonal temperatures in Malta:
| | April | May | June | July | August | September | October |
| --- | --- | --- | --- | --- | --- | --- | --- |
| Day air temperature | 16-18 °C | 19-21 °C | 20-25 °C | 25-26 °C | 26-27 °C | 24-27 °C | 21-24 °C |
| Water temperature | 17 °C | 19 °C | 22 °C | 26 °C | 27 °C | 26 °C | 24 °C |
What to do and to see in Malta?
It is better to start from Valletta, and dive into history. Many sites in Malta are included in the UNESCO World Heritage List. The city's fortifications are well visible from the water at Grand Harbor and the scale is truly impressive. Moor in one of the marinas and go to explore the city. Walk along the city walls, climb up to the Fireworks battery, and then relax in the gardens of the Upper Barrakka. Visit the Grandmaster's Palace.  Currently, the museum of weapons is situated there.
From Valletta, head towards to Comino Island along the west coast. On the way, you can visit Popeye Village in Anchor Bay. In the 80s, for the Hollywood film Popeye, the whole fishing village was built on the coast special for filming. It will be interesting for both adults and children to look at the fairy scenery.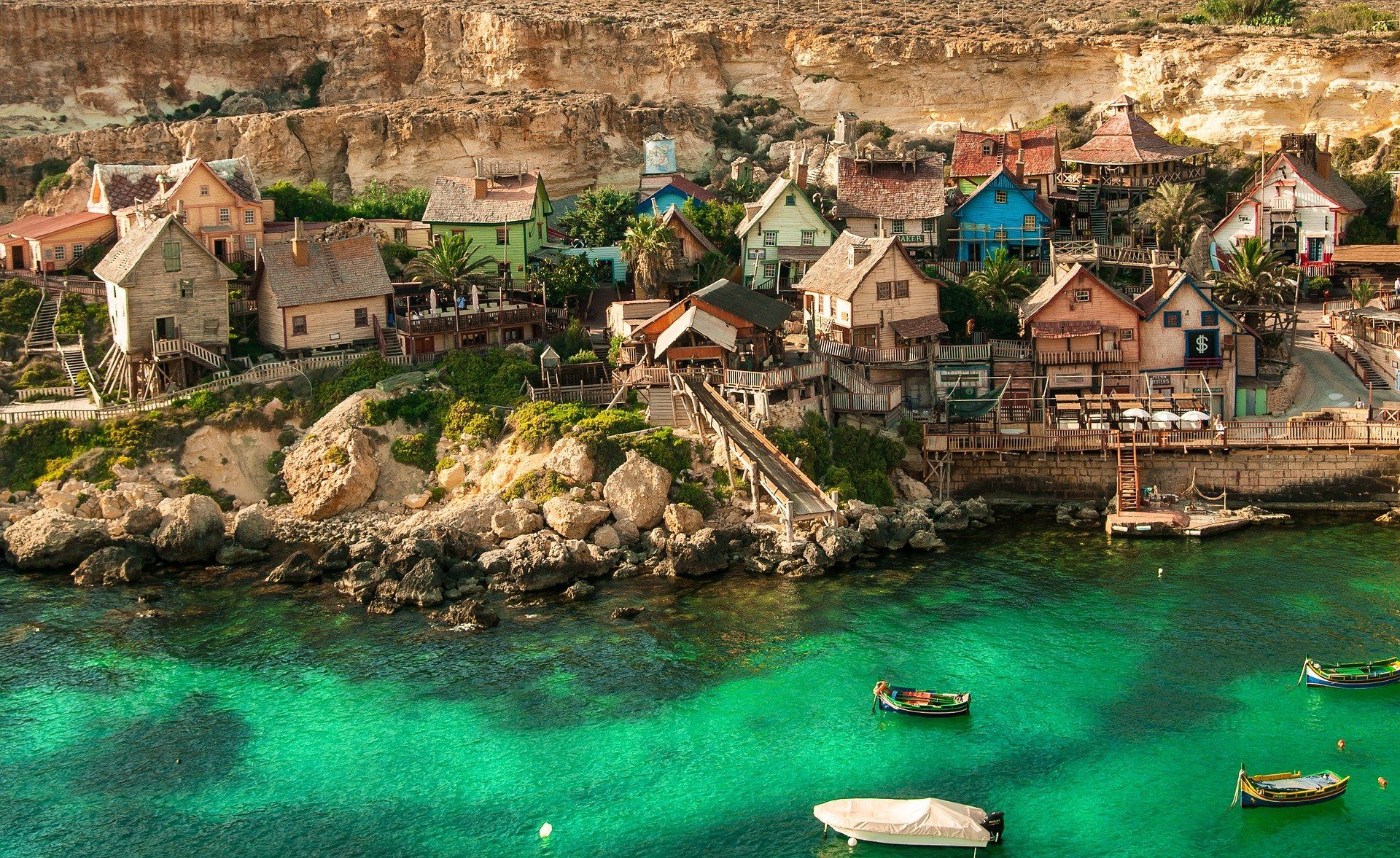 You can see a lot of picturesque bays, coves and lagoons in Comino. Many famous filmmakers use these places for filming their films. The Blue Lagoon is one of those places. It is perfect for swimming. The purest water and snow-white sand create a unique blue color. Moreover, in the north of the island, you can see the Elephant Rock. It was named for the shape. This is a naturally formed arch, in the outlines the head and trunk of an elephant are clearly visible.
After Comino, go to the untouched Gozo Island. Thought to be this is the island of Calypso from Homer's Odyssey. You can visit the bay Mġarr ix-Xini. In the Middle Ages, the knights used it to park the galleys. The bay has several caves and a quiet pebble beach.
You can find many picturesque beaches in Malta. The water here is clean and clear. Malta with some shallow swimming spots is well suited for families. The best beaches are located on the island of Gozo, such as Daħlet Qorrot, Dwejra Bay, Ħondoq Ir-Rummien, Xlendi Bay. Primarily, everyone visits the historical monuments of the island of Malta, so there will be fewer tourists here. In addition, you can visit Rdum il-Biez. The feature of this beach is it is impossible to reach it by foot, only by boat.
Active rest lovers can go diving, fishing or snorkeling. Among the underwater inhabitants, you can find sea urchins - this is a natural indicator of water purity. Also, you can see seahorses, octopuses, cuttlefish and many other inhabitants here. Moreover, at the bottom of the sea - you can find the oldest artifacts. For diving, you need at least OWD certificate, and in some places at least AOWD. The diving center specialists will tell you about it and warn you do not touch the underwater artifacts.
Where to anchor the yacht?
Any bay or harbor is suitable for daytime parking. At night, you can anchor in Mellieha Bay, Paradise Bay, Golden Bay, Marsalforn Bay and others. A beautiful view will open from any point that you choose for parking.
Anchor your yacht at Armier Bay. It is located in the north of the main island. By phone, you can order delivery at one of the restaurants located on the shore. Food will be delivered to you directly on the board. Traditional Maltese cuisine is similar to another Mediterranean cuisine. The main dishes here are sea fish and vegetables. In addition, for dessert - try local oriental sweets (but here they are called differently).
In case of bad weather, it is better to stay at the marinas. There, you can replenish fuel and water supplies, and also find everything you need: shops, restaurants, spa complexes and much more.
Most popular marinas in Malta:
Marina di Valletta;
Portomaso Marina;
Kalkara Marina;
Mgarr Marina;
Grand Harbour Marina;
Ta' Xbiex Marina;
Manoel Island Marina.
How much does it cost to rent a boat in Malta?
Boat rental prices depend on the season and you expectations from the sea trip. With GetBoat you can rent a yacht on the most profitable terms. Prices for rent a sailing yacht start from $ 1,561 per week, and catamarans start from $ 3,866.
If you are a romance lover, choose a sailing yacht. This option works well for couples and for small groups. A sailing yacht helps to be in good shape, because it requires a certain skill from the skipper.
You can choose a catamaran. It is more maneuverable and more stable on the water, and allows you to swim in shallow water, close to beaches. It is ideal for a family vacation or for a large company.
If you have a boating license and good experience, take a bareboat. This will add more freedom and a high level of privacy to your vacation. If you don't have a license or just want to relax and have nothing to think about - choose a boat with a skipper. He knows where to park, find a restaurant or suggest interesting places. Skipper services are paid additionally.
GetBoat will help you to find the right boat for the best price. For your convenience, we will negotiate with charter companies and agree on the best conditions. We will ask you only a few clarifying questions and select the best several options. Leave a request on our website now and start planning your vacation itinerary.