Christmas in July: where to celebrate on a yacht
Christmas in July, what? Yes, you read that correctly. Usually, Christmas is celebrated on December 25, in winter. Everywhere there are holiday decorations, seasonal sales, everyone is hustling around and buying gifts for family and friends. This is a special atmosphere. However, what about people who have winter in other months and in December, the atmosphere is completely different? The answer is to have a Christmas in July.
What is Christmas in July?
For all those who live in the southern hemisphere, winter lasts from June to August. This holiday is celebrated on July 25th. It turns out exactly 6 months before and exactly 6 months after the traditional Catholic Christmas. It is not known where the idea of this holiday came from, but according to one version, it was first organized in Australia. Over the years, it gained more and more popularity and eventually moved to the northern hemisphere.
On the pre-holiday days, as well as in December, shops organize sales, people organize parties, restaurants and bars adding special menus. There are many places where you can find holiday offers. Everything is almost no different from traditional X-mas, but there are summer elements. For example, special gift ideas or decorating a Christmas tree. You can give as a gift a snorkeling mask instead of a warm sweater with deer.
Christmas in July is celebrated in many countries: Australia, the USA, Great Britain, Ireland, South Africa, Puerto Rico and others. It is a good idea to spend X-mas in July aboard a yacht. This will allow you not to be tied to any one place. At any time, you can change the location to find new entertainment and enjoy a new view. There are two good destinations to celebrate Christmas in July: Miami, the British Virgin Islands and the US Virgin Islands.

Christmas in July in Miami/Key West
Miami/Key West is one of the most popular charter destinations. Here you will find a huge number of places to visit and activities to do. For example, you can go diving at John Pennekamp Coral Reef State Park in the Florida Keys, explore the islands from Elliot Key to Key West, play golf at Key Biscayne, and more. X-mas parties are also worth a visit. There are many bars and restaurants along the coast, where you will find special, festive menus and drinks.
You can moor along the entire coast - there are special parking facilities for this.
Here are the most popular marinas in Miami/Key West:
Prime Marina
Coconut Grove
Dinner Key Marina
Pelican Harbor Marina
Miami Beach Marina
Miamarina at Bayside
Sunset Harbour Yacht Club
Key West Bight Marina

Christmas in July in BVI
The British Virgin Islands is the premier celebrating spot of Christmas in July. This is not just a holiday, it can also be called a festival. Every year during this period, hundreds of boats head to the islands. Crowds of people can be seen having fun on the shore and on the water, and you can see many yachts moored and anchored.
Main places for celebration: Jost Van Dyke, Virgin Gorda, Anegada, Norman Island and Cooper Island, among others. In addition to parties on the shore, the fun continues on the water. Boats run between the yachts delivering food and drinks from restaurants.
Most visitors of Christmas in July are Puerto Ricans. It is a tradition to celebrate in the BVI's. At this time, there are also many tourists from other countries on the island. Many come here for what is always an amazing, unique, and unforgettable holiday.
You can charter a boat for the whole family. After all, for many people and students, summer is vacation time. Also, you can rent a yacht with friends and go to parties on the shore or arrange your own, right on board.

Our article covers lots of other things to do in the BVI.
Christmas in July in USVI
The US Virgin Islands is another destination to celebrate Christmas in the summer. There is also plenty of entertainment on the islands. You don't have to go ashore to get to the restaurant. You can dine at the floating restaurants and experience the local cuisine, or have some fun at parties. If you like diving or snorkeling, you can head to the islands of St. Croix or St. John. Observe marine life and coral reefs. There are many sea turtles and rays in the US Virgin Islands. Also, St. John Island has a national park with untouched nature and old sugar mill ruins to explore.
Here is a list of popular marinas in USVI:
American Yacht Harbor
Crown Bay Marina
Yacht Haven Marina
St. Croix Marina
Green Cay Marina
West Indian Company Dock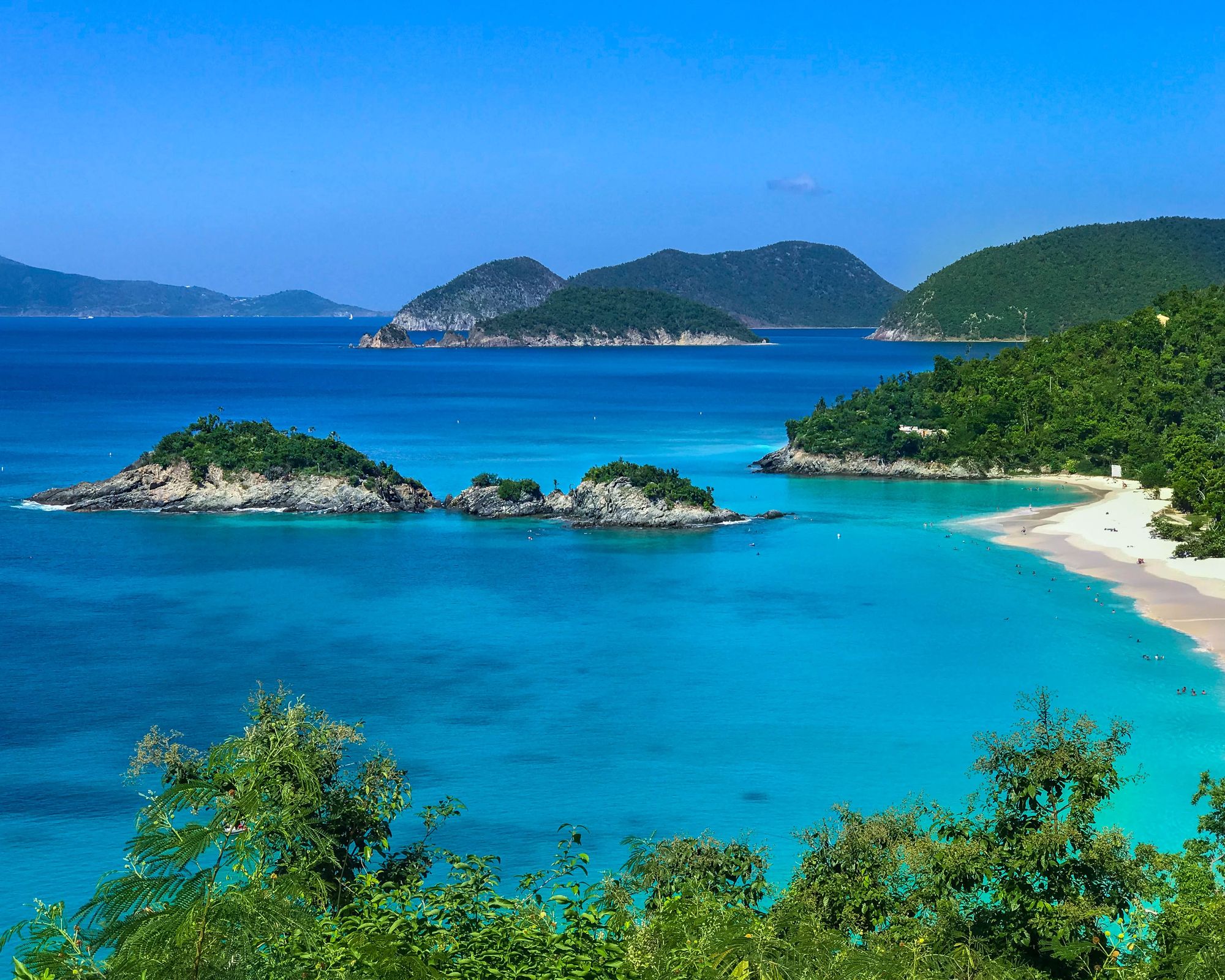 How much does it cost to rent a boat?
Yacht charter prices depend on the season and your preferences.
Motor yachts and catamarans have more space, so they are well suited for companies. Catamarans are more stable on the water and due to their construction, they allow you to enter the shallow water. For families, motorboats and sailing boats are suitable. They also have enough space and are more compact. For a vacation with a high level of comfort and luxury - choose a mega yacht. You will need to hire a team of at least two people for it. In addition, keep in mind that not every marina has a place to moor.
Choosing a vessel with a motor - you get speed, maneuverability and ease of control. If you want to test yourself as a skipper, choose a sailing boat. It is more difficult to steer and requires yachting skills. It's all about bareboat. If you haven't a skipper's license, or you just want to concentrate entirely on your vacation, you can rent a boat with a captain.
Here are boat rental prices per week:
| | Motorboats | Motoryachts | Catamarans | Mega Yachts 80ft+ |
| --- | --- | --- | --- | --- |
| Price per week In Miami | $3,150.00 | $10,000.00 | $6,000.00 | $40,000.00 |
| Price per week In BVI | $5,000.00 | $10,000.00 | $7,000.00 | $60,000.00 |
| Price per week In USVI | $5,000.00 | $10,000.00 | $7,000.00 | $50,000.00 |

Use GetBoat to charter a yacht for the best price
We have more than 1100 yachts in the British Virgin Islands, Miami and US Virgin Islands for charter, for every taste and for any type of company.
GetBoat will help you to find the right boat for the best price. For your convenience, we will negotiate with charter companies and agree on the best conditions. We will ask you only a few questions and select the best several options.