The Best Ways to Charter a Yacht in Greece
If you look for the best sailing experience in Europe, visiting numerous islands, traveling along the coast, and enjoying the remnants of ancient history and culture, Greece can offer all that and more. Over 6000 islands hide beautiful natural gems, ancient architecture, and a coastline with over 13 000 km worth of beautiful bays, cliffs, and beaches. Let's take a look at what you'll need to make Greece the best location for a vacation at sea
Where to Go for a Yacht Charter in Greece?
No matter what country you're traveling from, you will probably want to begin exploring Greece from its capital city Athens. Besides being an excellent location for having a taste of the Greek culture, traditions, and millennia-old ruins and architecture, the city is also a great starting point for a nautical vacation. You can charter a yacht in Athens, or hop on any smaller boat and sail to one of the thousands of islands located alongside the coastline of the mainland. Athens also boasts a big airport that offers a number of domestic flights to each of the bigger islands and to other mainland cities along the coast, so you have plenty of options for the perfect starting point of your vacation at sea.
Alternatively, starting your vacation the right way may be renting a motorboat or chartering a yacht from one of the bigger islands. Start sailing directly from Santorini, Mykonos, Crete or Zakynthos, or choose Rhodes if you would like to explore 50 of the most beautiful islands in Greece called the Dodecanese Islands.
Comfortable ports and marinas are located throughout the coastline of the mainland, so you can always set sail from wherever you want, and if you're choosing a bigger vessel, it is even possible to have it ready to sail from any marina you desire.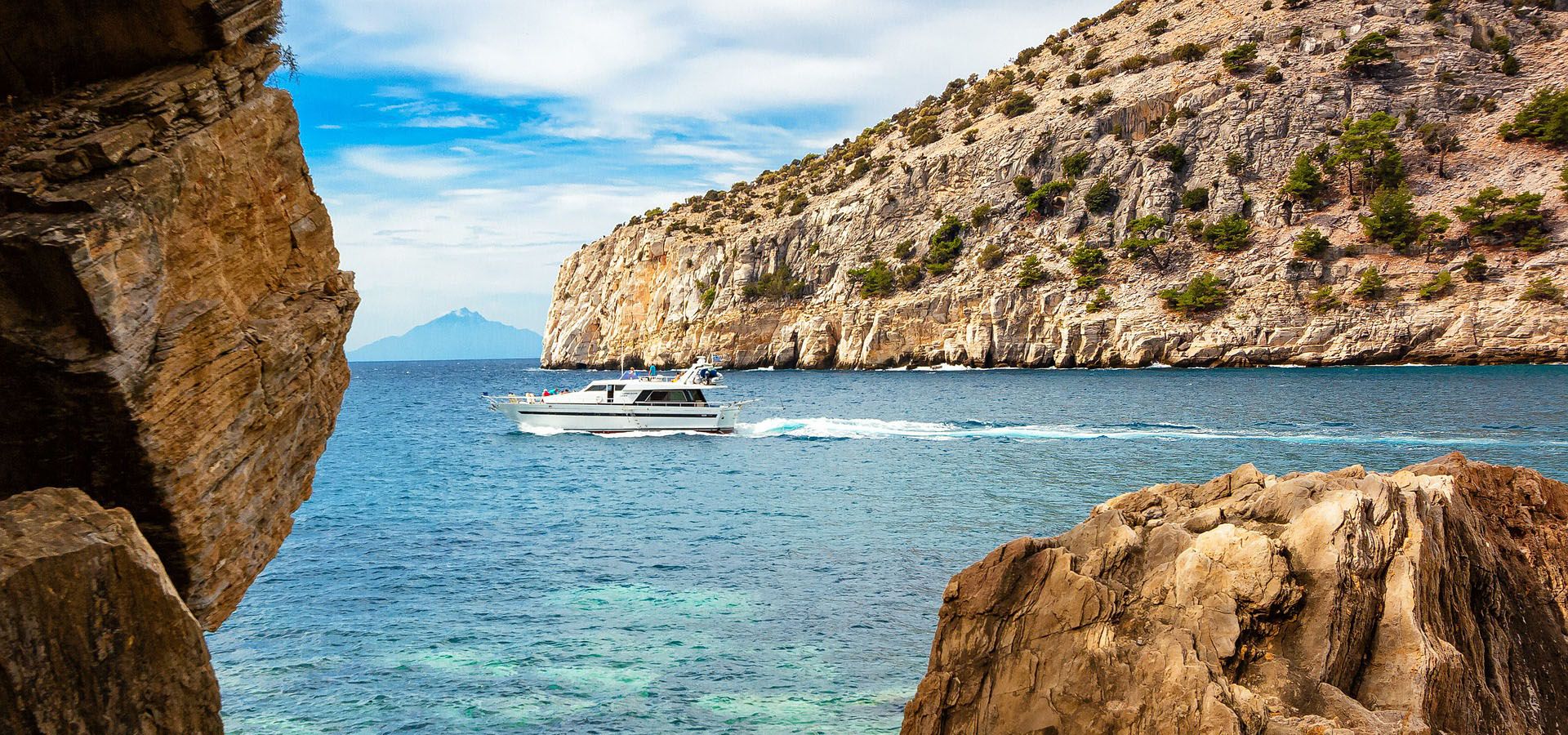 Weather Conditions for Sailing in Greece
Greece welcomes everyone with warm sunny weather almost all-year-round. For the most pleasant experience, plan your vacation for the sailing season that runs from April to the middle of November. You will enjoy great weather conditions with air temperatures around 30°C during the Summer months and water temperatures hovering at low to mid-20s throughout the season. Considering sailing closer to the Summer will also let you enjoy the nightlife and the blossoming nature to its fullest, it's probably a safe bet when sailing in Greece. Remember that temperatures differ depending on the location in Greece, so be sure to check the forecast for any specific region in advance.
If you are looking to challenge your sailing skills, consider the Cyclades as winds are quite strong there in July and August. That also means you should consider hiring a skipper if you desire a more relaxed voyage in that region.
Where to Go Sailing in Greece?
Greece is a fascinating country as it offers a variety of things to see and experience no matter what location you are in. The stunning nature interchanges with bustling cities perfect for an active nightlife and ancient ruins of the old civilization of warriors and philosophers. You can plan your route ahead of time so as not to miss any incredible vistas, cultural sites, or the most popular nightclubs.
Chartering a yacht in Greece allows you to choose between the mainland and any of the multitude of islands on the spot. Walk the ancient steps of the legendary Acropolis in Athens, then hop on your yacht and travel to the blue-and-white wonder of the Santorini island, enjoy the delicious Greek cuisine near the serene beaches of Crete, and party all night in one of many clubs on Corfu. Greece can truly satisfy your every desire.
If you would like to experience the islands but don't want to sail far, the islands of Argosaronic may be the destination for you. The Salamina island is only one nautical mile away from Athens and both Agkistri and Aegena are within twenty. That is probably the reason these islands are among the most visited in the country.
If you're up for a longer voyage, there are many places you can visit. From the Sporades and Ionian islands (that are among the greenest and most vibrant islands of them all), all the way to the most southern island of Gavdos where you can enjoy the wild beaches with Africa being only 200 km away.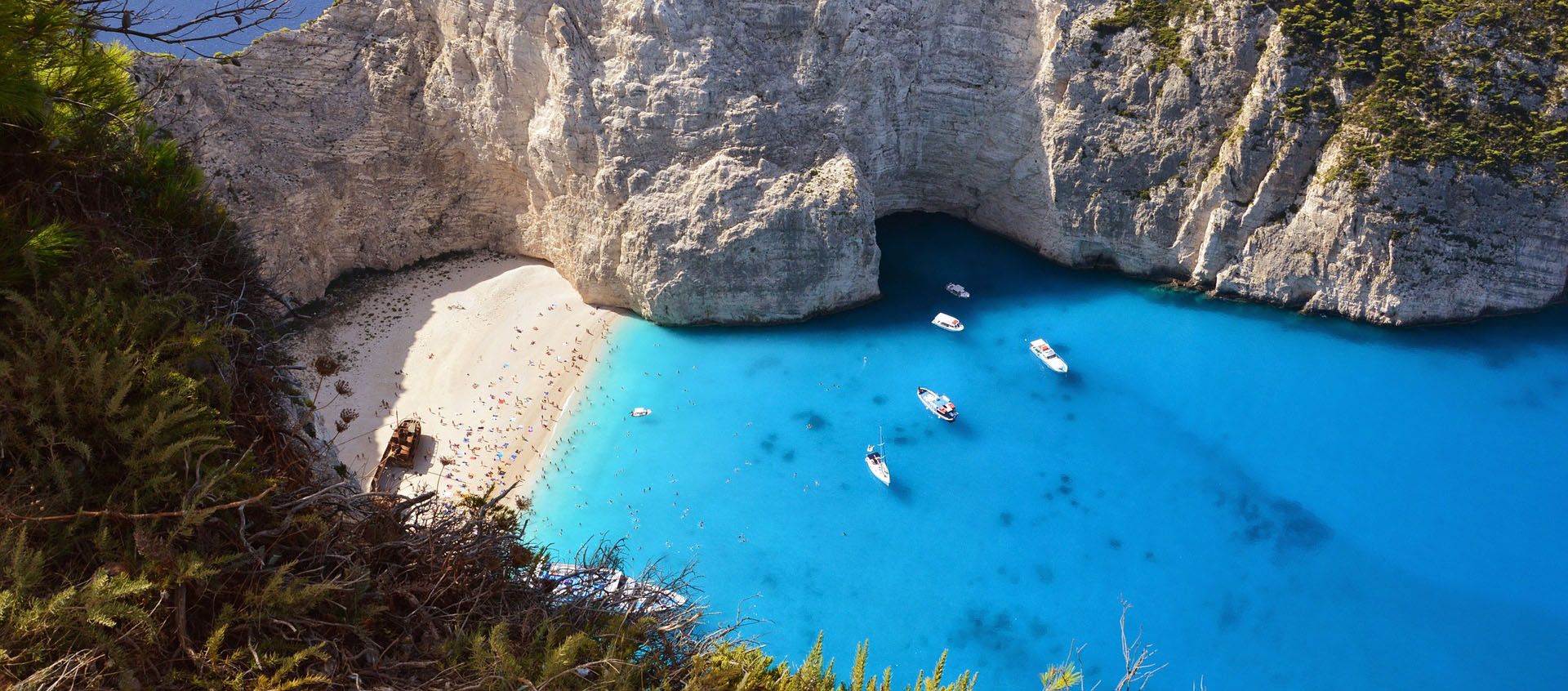 How Much Does it Cost to Charter a Yacht in Greece?
With how popular Greece is in terms of sailing and yacht charter, you will definitely find a vessel to fit your sailing skills, your budget, and your vacation plans. Explore the coastline in a comfortable sailing yacht, or give yourself a royal treatment by chartering a luxurious mega yacht for you and the company of your friends and family.
While the smaller uncrewed vessels will cost you anywhere from 550€ to 1500€ per week, they require you to have a captain's license and a skillset to handle the boat. If you don't have the license and require a crew or if you would like a bigger yacht, the prices go up to the 4500€ - 25000€ range. Considering you are essentially paying for a luxury suite (or the whole hotel if you go for a mega yacht) that also serves as an amazing method of transportation, the price doesn't seem as high.
Here's a small table with approximate prices* for different kind of vessels in Greece:
| | |
| --- | --- |
| Motorboats | 700€ - 1500€ |
| Motor Yachts | 4,500€ - 7,500€ |
| Sailing Yachts | 550€ - 650€ |
| Gulets | 5,500€ - 7,000€ |
| Catamarans | 1,200€ - 1,500€ |
| Mega Yachts 80 ft+ | 21,000€ - 25,000€ |
*Prices differ from place to place and depending on the season, so the final price may be different.
Use GetBoat to Take Advantage of the Best Offers on Yacht Charters in Greece
GetBoat uses a smart system to monitor the best deals in yacht charters and boat rentals around the world. We scan the marinas and negotiate with charter companies on your behalf to get the best prices. You just need to tell us which experience you'd like and we'll do the rest providing you with several suitable options to choose from. Leave a request now and we'll get the perfect boat for your next vacation at sea.